We are sure everyone dreamed about spending a night at the museum at least once in their life! Staying in mysterious silence alone with art masterpieces when the lights go out. Wandering through the deserted galleries until dawn, with a shivering flashlight, examining ancient sculptures and paintings created by great masters. Glancing around, quickly touching the keys of a rare piano, which is slightly covered with dust, and feel as if you're becoming a part of history for a few moments. Not many people realize that it's easy to let dreams come true... by choosing the right hotel!
There are several unique art hotels in the world. Each of them not only provides accommodation but also serves as a museum to some extent. In such hotels, one can see famous paintings in gilded frames that hang on the lobby's walls, observe arty statues along marble staircases, crystal chandeliers from royal palaces, antique furniture, and other unique items freely available to guests.

FROM DALÍ TO WARHOL
For example, a castle-like hotel, The Dolder Grand, rises above Zurich. This hotel with modern rooms, known for its graceful turrets, houses an almost full-fledged museum, albeit without tickets and queues! Guests can see more than 100 valuable exhibits, including a surreal painting by Salvador Dalí 'Femmes métamorphosées – Les sept arts,' an 11-meter-long painting by Andy Warhol 'Big Retrospective Painting,' works by Camille Pissarro, René Magritte, Henry Moore, and sculptures by Barry Flanagan and Takashi Murakami. The hotel collection is being constantly updated. One never knows what they will see next time – The Dolder Grand terraces offer a fabulous view of the city and the silvery surface of the lake! And it is quite an event for gourmets to taste delicious dishes in the hotel's restaurant. You have never dined at an art gallery, have you?



VISITING ROMEO AND JULIET
Almost every building is a work of art and a historical monument in amazing Italy. The luxurious Due Torri Hotel is placed in the historic center of Verona, just a stone's throw from William Shakespeare's famous Juliet Balcony. Wolfgang Amadeus Mozart and Johann Wolfgang von Goethe stayed in the legendary Palazzo dell'Aquila of the 14th century, first converted into an inn in 1674, where the coronation of the exiled French King Louis XVIII took place and the national hero of Italy, Giuseppe Garibaldi, made a fiery speech to the inhabitants of Verona. The latest restoration offered the world a real treasure – circus-themed frescoes by Veronese artist Pino Casarini. But the surprises don't end there. The 'Brandenburg Knights' Tournament' fresco, grandly restored, welcomes guests in the lobby!



ITALIAN NIGHT
Another Italian gem is Four Seasons Hotel Firenze in Florence, which combines aristocratic style and refined Renaissance splendor. Stepping into the lobby, you will see 12 bas-reliefs by Bertoldo di Giovanni, Michelangelo's teacher. The luxurious rooms feature vaulted ceilings and walls decorated with antique frescoes from the 17th century. It seems you stay overnight in one of the Uffizi halls, open exclusively for you. By the way, a walk to the famous gallery will take no more than 15 minutes. The hotel is surrounded by the most extensive garden in Florence, dating back to the 15th century and retaining its original beauty. For centuries, this miracle of landscape design was hidden from nosy viewers. But today's hotel guests freely walk in the garden with graceful statues, fountains, and even a petit Ionian-style temple. Here you can order dinner on the top of the hill, admiring the views of La Cattedrale di Santa Maria del Fiore in the rays of the setting sun. Enjoy!



CASTLE NEAR A LAKE
Some hotels are art objects themselves. Sitting on the banks of Lough Corrib, a lake in the west of Ireland, there is beautiful 13th-century Ashford Castle, County Galway, converted into a hotel. Princess Grace Kelly and the ruler of Monaco, Prince Rainier, American actor Fred Astaire, U.S. Senator Ted Kennedy, and other celebrities loved to visit it.
No wonder – the castle looks mesmerizing! Particularly luxurious is the Reagan Presidential Suite, named after U.S. President Ronald Reagan, who came here for the first time in 1984. The main feature of the room is an antique George III styled bed with a Viennese silk canopy. The bed linen was designed exclusively for the hotel's interiors by the owner's daughter Toni Tollman and French designer Philippe Bonino.




ROYAL DREAMS
Traveling in Italy, you will surely add cozy Bologna to your trip plan. And if you want to relax like a king, stay at the Grand Hotel Majestic già Baglioni, the highlight of which is a unique collection of antique beds and headboards: trimmed with silk, artfully carved from wood, complemented by canopies, draped with textiles. Each bedroom has its unique atmosphere! One of the beds is older than the hotel itself. This luxurious bed, dating from the 17th century, will be available to guests who have booked the Royal Suite Giuseppe Verdi. The wooden headboard is hand-carved and covered with real gilding. Do you often have a chance to sleep on a bed that can rightfully be considered a national treasure? A dreamy night for you!



ANCIENT ABBEY
Abadía Retuerta Le Domaine, built on the site of a medieval monastery where the monks once planted grapevines, is famous in the Spanish town of Sardoncillo and beyond. Modern amenities blend perfectly with 12th-century Romanesque architecture to add an extraordinary flavor to that place. It is a real museum with 170 works of art! There are 19 lithographs by Spanish artist Joan Miró exhibited in the guest rooms, paintings by Giovanni Paolo Panini and Giovanni Antonio Guardi, a figure of Buddha from the 16th century brought from Thailand, a 17th-century Flemish brass mirror, and handmade carpets in the corridors and halls. And while waiting for guinea fowl with lobster oil, guests can see a 1670 fresco, 'The Holy Supper,' and a 17th-century still life at the Michelin-starred Refectorio restaurant. Bon appétit!



ASIAN LUXURY
In Singapore, we recommend staying at The St. Regis Singapore. The hotel has one of the richest private art collections in Southeast Asia, it is worth $10 million! In the hotel's bar, you will see ten Picasso lithographs from the Toros series. While near the entrance, there is the 'Dancing Nude Couple' – a sculpture by Colombian artist Fernando Botero, and the pair of crystal carp statues by Canadian-born, U.S.-based architect Frank Gehry. Near the azure pool, there is a sculpture – a figure lying on a silver cloud – by Chinese artist Li Chen, and paintings by Marc Chagall, Marc Tobey, and Sam Francis are on the walls of the presidential suite. And by the way, it is not necessary to look for all these items on your own. It is better to go on an Art of Living tour with a guide who will tell you about each artwork in detail!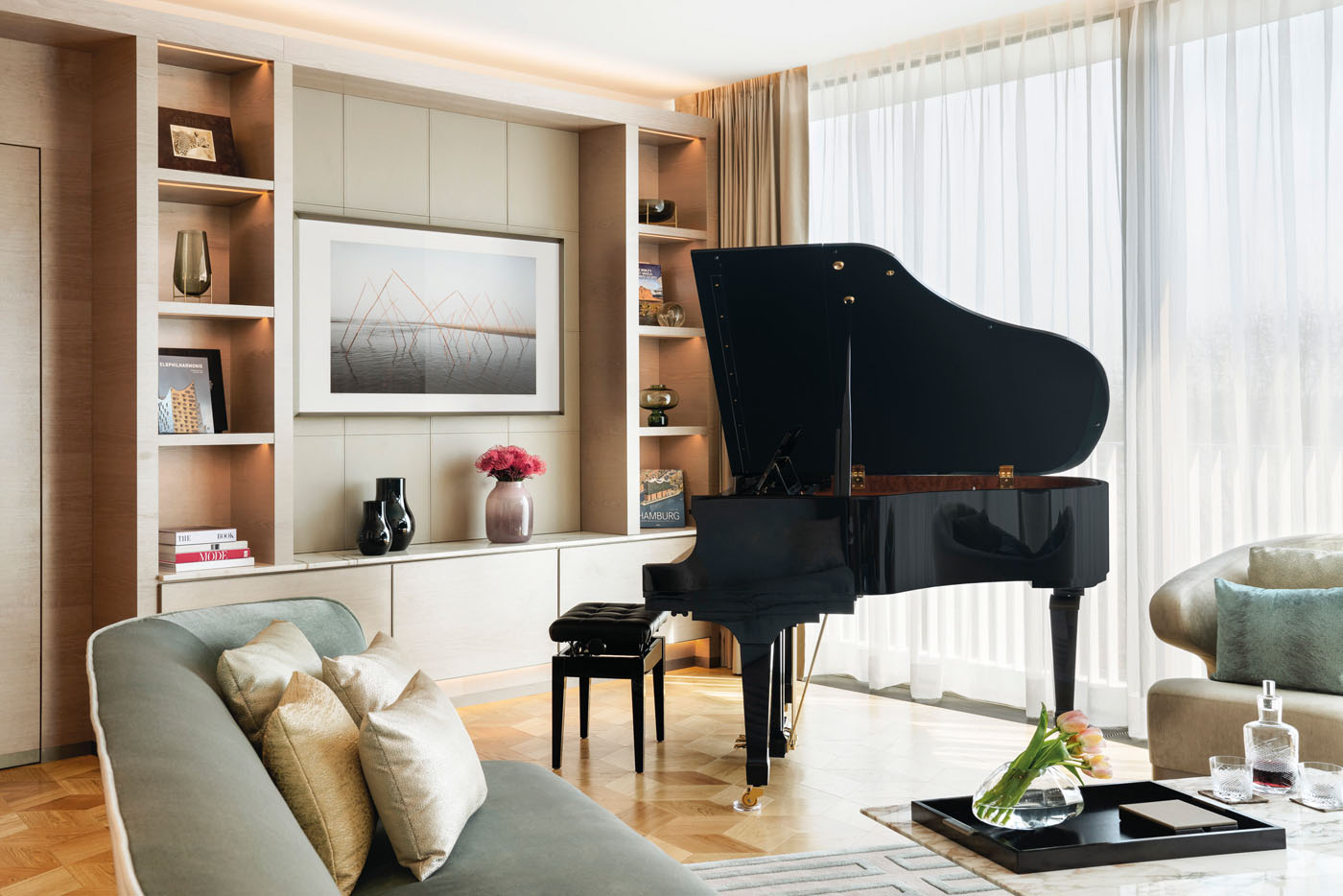 FUTURISTIC WORLD
If you are heading to Hamburg, check out one of modern hotels, The Fontenay Hamburg! Designed by renowned German architect Jan Störmer, this futuristic building, which has no parallel walls, is located on the shores of the picturesque Alster Lake, surrounded by a magnificent park. The hotel interior includes more than 100 paintings by Peruvian artist Antonio Máro, recognized far beyond the borders of his homeland, and Hamburg artist and photographer Jaschi Klein.



AT THE PEAK OF FASHION AS ART
An exclusive object of modern design is KENSHŌ Boutique Hotels & Villas on the Greek island of Mykonos, which in itself is a unique pearl of the Mediterranean. It is the 'land of freedom and luxury,' where mainly Europeans and Americans spend their vacations. Yellow sand, turquoise waves, and the absolute emancipation of morals – what else is needed for the soul and body to celebrate the life? Jet-setters and sybarites from all over the world flock here. Celebrities, windsurfers, and owners of prestigious yachts, who come to the island for extraordinary nightlife, gastronomy, and cutting-edge bar mixology, love to spend time there. The delightful snow-white mills built by the Venetians in the 16th century are the architectural landmark of the island.And next to them exists another miracle – magnificent KENSHŌ hotels, whose name should be interpreted as 'Delightful awakening!' Artfully blended into
the natural landscape, they reflect the power of minimalism and the island's energy. World-famous architects and designers worked on their creations:
Patricia Urquiola, Paola Navone, Redaelli Ricambi, Kenneth Cobonpue. Furniture and accessories of fashionable European brands are part of the interiors: Mogg, Foscarini, Riva 1920, Micomoler, Gervasoni, Gandia Blasco, Gessi – the connoisseurs will appreciate it. It's a must-visit for those who love a sophisticated lifestyle.
KENSHŌ Boutique Hotels & Villas are the newest deluxe hotels in Mykonos, offering discerning travelers a unique experience of luxury and comfort.
For every fan of a vibrant lifestyle surrounded by celebrities, we recommend staying at KENSHŌ PSAROU. It is the only hotel located at the water's edge of the most famous beach in Mykonos, Psarou! You will experience all the privileges of a high-class service and, perhaps, get acquainted with Leo DiCaprio or Paris Hilton over a cocktail, as well as other guests whose names adorn the Forbes list.
For a more sequestered holiday, it is better to choose KENSHŌ ORNOS, located on a hill next to Ornos Beach. The hotel will surprise you with secluded bars, secret pools, grottoes and sun terraces, original room design, and rituals at the Cave Spa.
Relax and admire!



THE ART'S TENEMENT ON THE FRENCH RIVIERA
Another museum-like hotel is located on the Côte d'Azur in France. Le Negresco is a five-story building that exhibits works of art from the past five centuries. Sculptures, paintings, decor items, antique furniture – walking the corridors of that hotel is just like a visit to a museum! Of course, you should not skip the Louvre and other famous galleries. But why go far if you can admire works by Pablo Picasso and Salvador Dalí on the way from your room to the restaurant? And these are unique paintings that only Le Negresco guests can see! According to rumors, Gustave
Eiffel created the metal frame of the famous pink dome of the Royal Salon in the shape of his lover's right breast. And on special occasions, the floor of the Royal Salon is covered with a carpet woven in 1615 for Queen of France Marie de' Medici. The history of Le Negresco is adorned with many legends. Salvador Dalí came to dine with a cheetah on a leash. Welsh actor Richard Burton once left a jewelry case there with a diamond necklace he had bought for Elisabeth Taylor. Its price is estimated at $24 million. The hotel's then owner Madame Jeanne Augier refused to sell Le Negresco to Bill Gates himself and bequeathed it to a charity that helps homeless people and stray animals.